Electrical & Electromechanical Technology - Residential Electrical Construction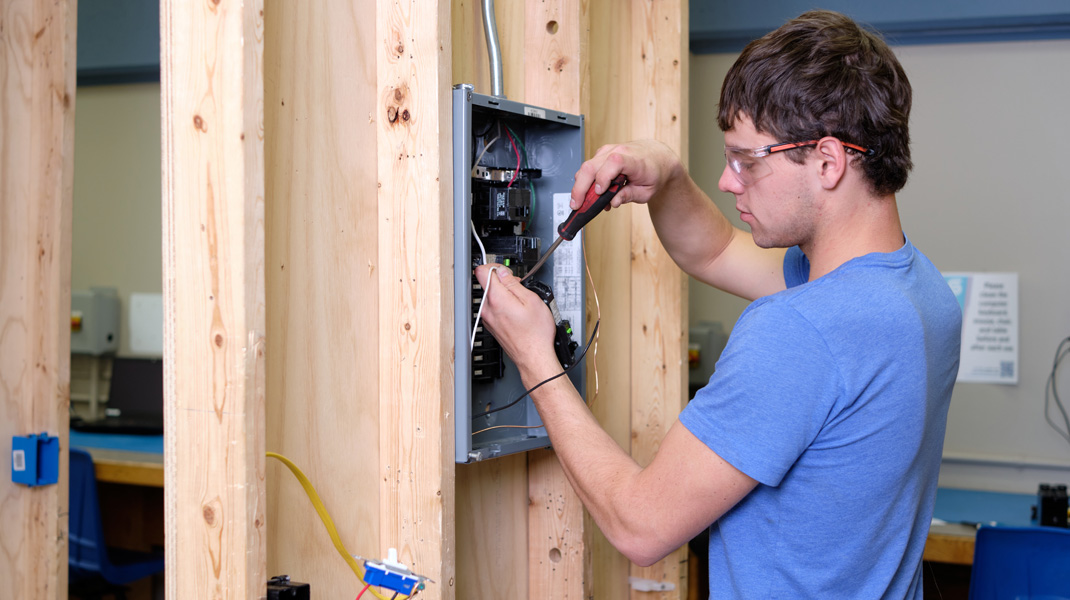 Program Description
We can help you start your career as a skilled electrician with a certificate in Electrical & Electromechanical Technology – Residential Construction. You will spend time in our hands-on lab settings which prepares you to work on residential wiring. You will learn to install electrical systems in two-family or a multi-family residential dwelling not larger than three stories in height. This certificate program will introduce you to the residential electrician industry and provide you with knowledge and skills necessary for a residential apprentice electrician.
Residential installations are defined as "an installation intended for a single-family or two-family residential dwelling or a multi-family residential dwelling not larger than three stories in height."
Awards Offered: Certificate
Locations: Milford
Formats: In-Person
Start: Fall
Schedule: Full-Time
Estimated Total Cost
$3,680 Certificate
You can start the Electrical & Electromechanical Technology program in the Fall or Spring terms. Follow these steps to finish your application:
Want to learn more about SCC? Come see how SCC will help you achieve Your Path to Possible!

Schedule a campus visit!
Need help exploring career opportunities or navigating the admissions process?

Schedule an appointment

with an Admissions Counselor.
Ready to apply?

Complete an Application for Admission.
Submit ACT, SAT, Next Generation Accuplacer, or Accuplacer test scores (reading and math) or official college transcripts showing completion of post-secondary coursework in English and math to the Admissions Office at any SCC location.
You will focus on electrical and industrial electronic principles before you choose your focus area. In addition, you are required to provide or purchase a basic tool set during the first semester.
Manufacturing Day | Month
Held annually on the first Friday in October with events that continue throughout the month, Manufacturing Day (MFG Day) provides an opportunity to showcase manufacturing careers. As manufacturers seek to fill high-skill, high-tech and high-paying jobs, MFG Day empowers manufacturers, industries and SCC to come together to address collective challenges while engaging with communities and the workforce. Learn more.
Below are the required courses for this program. If you have questions please contact:
Dan Schweitzer, Program Co-Chair
402-761-8361, 1-800-933-7223, ext. 8361
dschweitzer@southeast.edu
Jordan Liekhus, Program Co-Chair
402-761-8300, 1-800-933-7223, ext. 8300
jliekhus@southeast.edu
You're a Good Fit
You will be successful in our Electrical & Electromechanical Technology program if you:
like to work in a variety of work settings and are willing to travel to new
have good math and computation skills
use your critical thinking skills to analyze a situation and solve the problem
enjoy a physically active job and have good hand-eye coordination and manual dexterity
have excellent verbal and written communication skills
are able to manage your time
like to work with a team to complete projects in a timely manner

Careers
We give you the skills necessary to get your career started with a high volt of energy. Electrical & Electromechanical Technology - Residential Electrical Construction career options include:

State Licensure or Certification Requirements
The Electrical Construction certificate does not, on its own, qualify toward required experience in Nebraska.
SCC has not made a determination if these programs' curricula meet the educational requirements in any state other than Nebraska.
State Authorization Reciprocity Agreement Institution