Electronic Systems Technology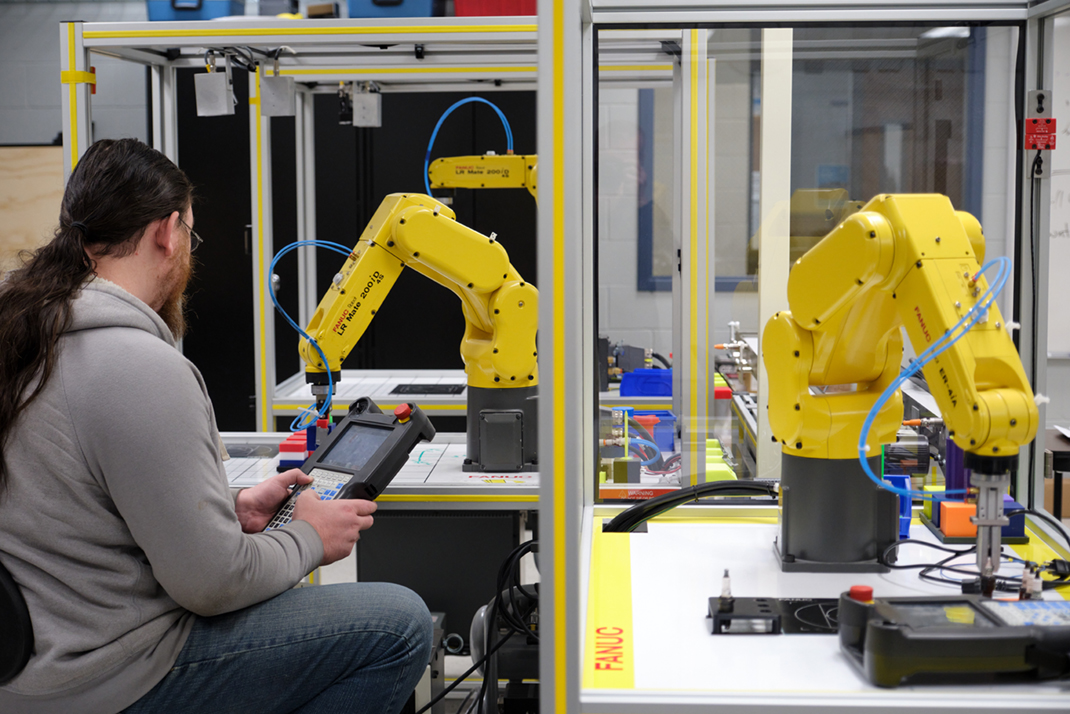 Program Description
Our Electronic Systems Technology program will open a variety of exciting, steady, and lifelong career opportunities. Your options range from working on a bench as a technician repairing equipment being manufactured and/or repairing existing equipment to traveling to different locations installing and repairing equipment.
Our program is sequenced as a building block for you to develop the skills necessary to succeed. You will spend half of your training in a laboratory setting which allows you to apply classroom theory as you progress through the program. Skills taught and developed include soft skills, troubleshooting, hardware configuration, equipment installation, and programming.
Awards Offered: A.A.S. Degree
Locations: Lincoln
Formats: In-Person
Start: Fall / Spring
Schedule: Full-Time
Estimated Total Cost
$9,036 Associate of Applied Science
$8,699 Associate of Applied Science
You can start the Electronic Systems Technology program in the Fall or Spring terms. Follow these steps to finish your application:
Want to learn more about SCC? Come see how SCC will help you achieve Your Path to Possible!

Schedule a campus visit!
Need help exploring career opportunities or navigating the admissions process?

Schedule an appointment

with an Admissions Counselor.
Ready to apply?

Complete an Application for Admission.
Submit ACT, SAT, Next Generation Accuplacer, or Accuplacer test scores (reading and math) or official college transcripts showing completion of post-secondary coursework in English and math to the Admissions Office at any SCC location.
Manufacturing Day | Month
Held annually on the first Friday in October with events that continue throughout the month, Manufacturing Day (MFG Day) provides an opportunity to showcase manufacturing careers. As manufacturers seek to fill high-skill, high-tech and high-paying jobs, MFG Day empowers manufacturers, industries and SCC to come together to address collective challenges while engaging with communities and the workforce. Learn more.
Please note that the following programs are currently under review by the Department of Education for federal financial aid. Students are not able to receive federal financial aid for this program until it has been approved.
Electronic Systems Technology, Electronic Systems Technician, AAS

You're a Good Fit
You will be successful in our Electronic Systems Technology program if you:
are an abstract thinker and understand the concepts in electronic theory
have basic math skills in order to manipulate algebraic equations proficiently
have the ability to understand and follow written directions
have excellent eye-hand coordination and manual dexterity
enjoy "mind-on" and "hands-on" activities

Military Transfer (Advanced Placement)
We offer military students with an electronics background and training to apply their training and reduce the courses necessary through credit by waiver to complete the degree. You will work with the program director to select the courses to enhance your technical expertise. Up to 2/3 of the technical courses can be transferred in for a technician focus or computer, automation and networking focus.
Careers
We prepare you for an array of career opportunities as technicians are needed in all aspects of the electronic and information technology industry. Recent SCC graduates report an average starting annual salary of $45,656. Electronic systems technology career options include:
Application Specialist
Apprentice Install Electrician
Avionics Bench Technician
Electronic Maintenance
Electronic Technician
Field Technician
Five DX Operator
General Manager
Install Technician
Instrument & Control Technician
Service Engineer
System Technician

Certifications
While certifications are not required, you will be given opportunities and assistance to obtain certification in the following while taking classes:
iNARTE Certification (without testing)
International Society of Certified Electronics Technician (ISCET)
CISCO Certified Network Associate (CCNA)
NCATT Aircraft Electronics Technician
Network+
CompTIA A+
We are working on Solder standards and the certification of all students.