Precision Machining and Automation Technology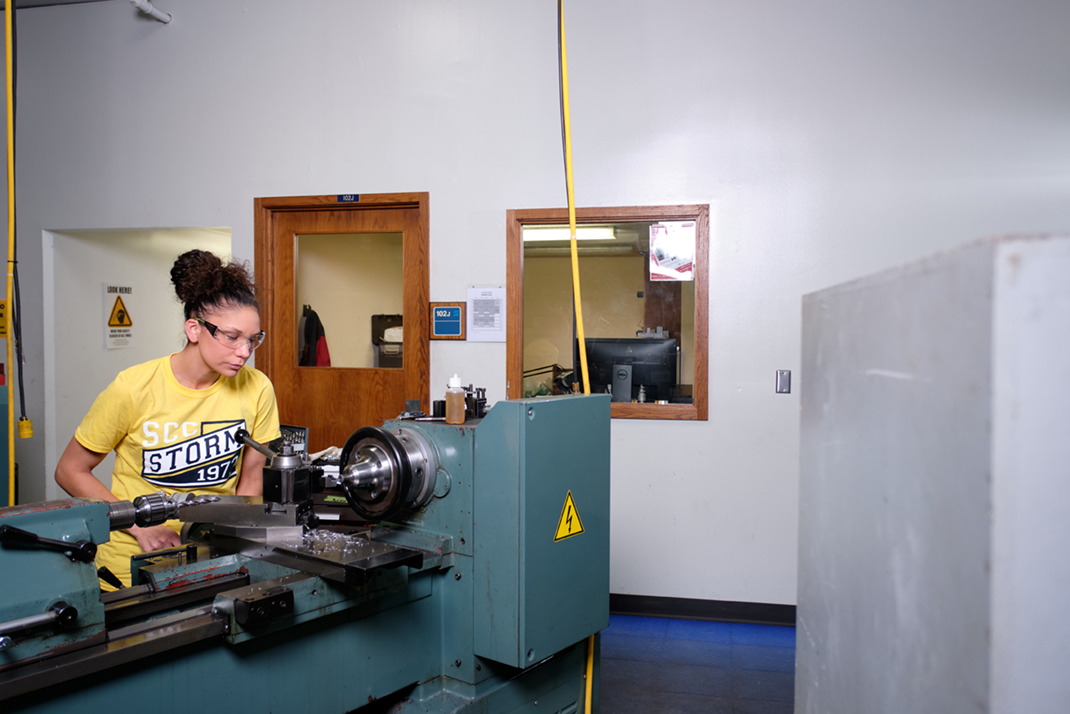 Program Description
Since 1941, our Precision Machining and Automation Technology program has been a mainstay on our Milford campus. One of the most well-known programs in the country, you will receive hands-on training in one of the largest precision-machining facilities in the nation in the Eicher Technical Center. We provide curriculum and experience in tool and materials selection, blueprint-reading, measurement, and project layout.
You can choose to specialize in two areas: Tool Maker and CNC and Automation. In addition to machine-specific training, you receive a foundation in academic subjects useful in the manufacturing industry. Throughout your training, you'll design and build various projects relevant to the mold, die, and automated equipment industry. In addition, our labs provide valuable experience in computer aided drafting using AutoCAD, and computer-aided manufacturing using Mastercam.
Students entering this program may qualify for the Scott Pathway Scholarship.
Awards Offered: A.A.S. Degree / Diploma
Locations: Milford
Formats: In-Person
Start: Fall / Spring
Schedule: Full-Time
Estimated Total Cost
$11,092.50 Associate of Applied Science
$6,354.50 Diploma
Want to learn more about SCC? Come see how SCC will help you achieve Your Path to Possible!

Schedule a campus visit!
Need help exploring career opportunities or navigating the admissions process?

Schedule an appointment

with an Admissions Counselor.
Ready to apply?

Complete an Application for Admission.
Submit ACT, SAT, Next Generation Accuplacer, or Accuplacer test scores (reading and math) or official college transcripts showing completion of post-secondary coursework in English and math to the Admissions Office at any SCC location.
You are not required to have a toolbox in our program but many students purchase their own. Your toolbox must be a roll-away unit where both the lower and upper units can be locked for security. Your unit cannot exceed 30 inches in length.
Manufacturing Day | Month
Held annually on the first Friday in October with events that continue throughout the month, Manufacturing Day (MFG Day) provides an opportunity to showcase manufacturing careers. As manufacturers seek to fill high-skill, high-tech and high-paying jobs, MFG Day empowers manufacturers, industries and SCC to come together to address collective challenges while engaging with communities and the workforce. Learn more.
You're a Good Fit
You will be successful in our Precision Machining and Automation Technology program if you:
Enjoy working with mechanisms and can visualize how devices operate
Have a desire to create things that are useful
Constantly think about how you can improve items that you use everyday
Are a person who likes to be able to see physical progress in the things they do
Would enjoy learning how things are made and can also make whatever you want

Careers
Our Precision Machining and Automation Technology program prepares you for an exciting, fast-paced career in manufacturing. Recent SCC graduates report an average starting annual salary of $53,352. Career options in precision machining and automation include:
Tooling designer and builder
Die and Mold designer and builder
CNC Programmer
CNC Set-up and Operator
Automated Machine Builder
Tooling & Equipment Designer
Quality control technician