Beatrice Campus hosts District FFA Contest
March 03, 2023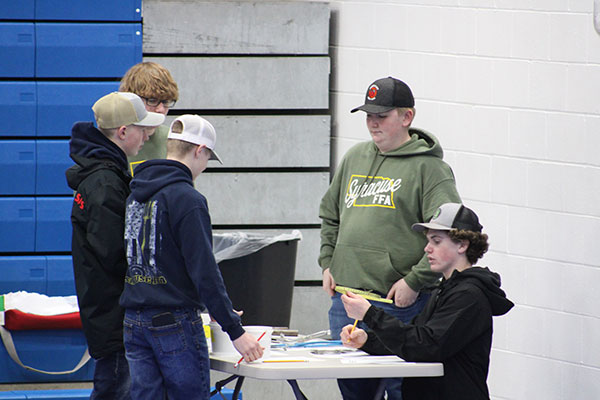 Students representing 18 southeast Nebraska high schools competed Feb. 28 in the Nebraska State FFA District 1 Career Development Event on the Beatrice Campus of Southeast Community College.
The Nebraska State FFA Convention is March 29-31 in Lincoln.
FFA members participated in 13 contests, from Ag Mechanics to Vet Science. The top three teams receive gold, silver and bronze medals, and the top three individuals receive gold, silver and bronze medals. All students receive ribbons.
Faculty and students in SCC's Ag programs hosted the contests.
"Developing and operating an event of this caliber teaches our students soft skills so they are successful within their job and community once they leave SCC," said Kenni Woerner, a member of SCC's Ag faculty.
Following are contest results. Some events only allow the top teams in the district to compete at state. Those events are titled State Qualifiers. The other events listed are non-state qualifying.
Ag Mechanics State Qualifiers
1st – Johnson-Brock 1
2nd – Pawnee City
3rd – Johnson County Central 1
4th – Johnson-Brock 2
5th – Freeman 1
Agriscience
1st – JCC 1
2nd – Johnson-Brock 1
3rd – Norris 1
4th – JCC 2
5th – Conestoga 1
6th – Conestoga 2
7th – Freeman
8th – Sterling
9th – Lewiston
10th – Pawnee City 1
11th – Johnson-Brock 2
12th – Norris 2
Agronomy State Qualifiers
1st – Pawnee City 1
2nd – Freeman 1
3rd – Johnson-Brock 1
4th – Syracuse
5th – JCC
Biotech State Qualifiers
1st – The Career Academy 1
2nd – The Career Academy 2
Farm and Agribusiness Management
1st – Norris
2nd – Syracuse
3rd – Conestoga
Floriculture State Qualifiers
1st – Norris 2
2nd – The Career Academy
3rd – Norris 1
4th – Freeman
5th – Palmyra 1
Food Science State Qualifiers
1st – Johnson-Brock
2nd – Palmyra
3rd – Auburn
Livestock Management State Qualifiers
1st – Palmyra
2nd – Lewiston 1
3rd – Falls City 1
4th – Auburn
5th – Syracuse 1
Meats Evaluation State Qualifiers
1st – Lewiston 1
2nd – Pawnee City
3rd – Lewiston 2
4th – Nebraska City
5th – Southern
Environmental & Natural Resources
1st – Syracuse
2nd – Lewiston
3rd – Johnson-Brock
4th – Conestoga
5th – JCC
6th – The Career Academy
7th – Freeman
8th – Palmyra
Nursery/Landscape State Qualifiers
1st – Freeman
2nd – JCC
3rd – Conestoga
4th – Lewiston
Sales State Qualifiers
1st – JCC
2nd – Syracuse
3rd – Norris 1
Vet Science State Qualifiers
1st – Lewiston
2nd – Palmyra
3rd – JCC