SCC Starts 2023 Fall Semester
August 21, 2023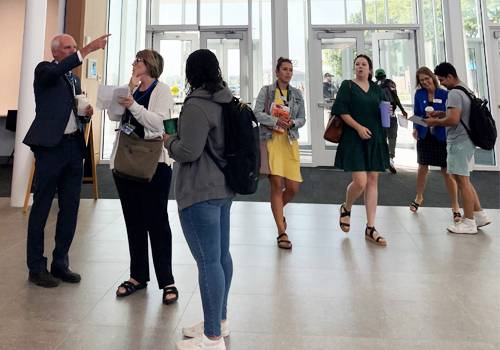 The fall semester at Southeast Community College started on all three campuses in Beatrice, Lincoln and Milford on Monday, Aug. 21. Students arriving on the Lincoln Campus were greeted by SCC employees ready to answer questions and help them find classes. This included SCC President Dr. Paul Illich.
"The start of the new school year is my favorite time of year," Illich said. "Students are filled with so much enthusiasm and hope for their future. I really enjoy seeing how excited they are as they discover what they want to be."
In a little over an hour, Illich helped more than 15 students navigate their way on the Lincoln Campus to find their classrooms. He used his time with the students as a chance to learn their story while sharing SCC's future plans with them.
"Over the last three to four years, all of our campuses have gone through major changes," Illich explained. "All of the students I have talked to today love the renovations and all of the new study spaces. They feel welcome here and feel like they have arrived at a destination which will help them."
One of those students is Erika Young, an Academic Transfer student who graduated from Lincoln Lutheran in 2023. She opted to do the transfer route as she decides between dental hygiene and occupational therapy. Taking general education courses at SCC seemed like the smart thing to do while figuring out her career path.
"I did Academic Transfer because it was cheaper, and I don't mind living at home," Young said. "Plus, it will make the transition to a four-year college easier."
Young attended one of SCC's new student orientations over the summer to help her feel at ease on campus. With all the changes going on at SCC, she wanted to be prepared for her first day.
"I was really nervous, but once I got here it was the easiest thing I have ever done," she said. "I was surprised at how nice SCC is. The buildings are really nice, and there are people helping us find our classes."
Kat Kreikemeier, SCC's administrative director of admissions, said nothing beats the excitement of the first day of classes.
"Seeing all the new students adds energy on campus," Kreikemeier said. "There's a lot of hope of new adventures and experiences on their faces."
Jennifer Snyder
Communications Specialist
402-323-3393
jsnyder@southeast.edu