State Office of the CIO Collaborates with SCC on Workforce Development
September 11, 2023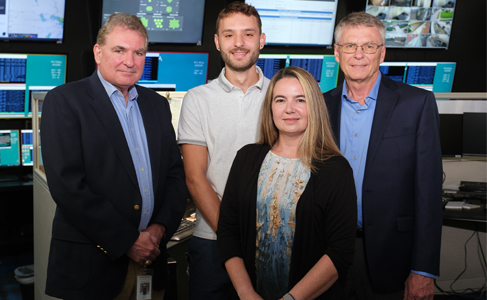 Long before workforce development was a trendy buzzword, the Office of the Chief Information Officer for the state of Nebraska worked with SCC to expand its workforce. The department began a collaboration with the Computer Information Technology program in 2015 to recruit students into an internship program which often results in full-time employment.
"Our partnership with SCC has allowed us to remain staffed with a quality technical workforce, something that is very difficult for other states," said Ed Toner, Nebraska's chief information officer. "Those we employ as interns often stay with the state and add value with their training."
At the start of Pete Ricketts' first term as governor, the OCIO had staffing issues as they had small candidate pools to replace long-time employees who reached retirement. The agency struggled hiring employees largely due to IT students not understanding the variety of opportunities for career growth available at the state.
Several OCIO hiring managers graduated from SCC's CIT program. As active alumni, they have served on the program's workforce leadership team and attended events like capstone student presentations, as well as meet-and-greet sessions. They approached Career Services and the program chair to schedule separate recruiting visits each quarter, now semester, for the OCIO to talk with students about their internship program and the benefits of working for the state.
"It is very important to build relationships in every area," Toner explained. "We are able to provide advice on what skills we are looking for in SCC graduates, which in turn ensures we understand what SCC needs from us. This makes all the difference between a successful organization and one that is simply business as usual."
The OCIO's experience is once an intern starts with the state, they are more likely to be hired full-time upon graduation. Since 2015, the OCIO hired 90 interns, with most of them coming from SCC. Of those interns, 67 were hired into full-time positions. As of the summer of 2023, the OCIO internship program has a 65% retention rate of those moving into full-time employment with the state.
Each intern is assigned a mentor to teach them business operations and answer any questions. The starting wage for the interns is the same hourly wage as full-time employees. Once an intern is hired full-time with the OCIO they are typically promoted to a senior-level position within two to four years based on performance.
Stacey Warner is a former intern who graduated from the SCC CIT program in December 2020 and moved into a full-time position as a senior Java application developer on the web team. She knows first-hand the benefits of the internship program.
"In our pursuit of hiring interns, we seek individuals who demonstrate a keenness to learn and collaborate alongside our team," Warner said. "Our internship program serves as an excellent platform for acquiring practical, on-the-job training and fostering familiarity with our team dynamics and applications, effectively preparing them for full[1]time employment within the state."
Jennifer Snyder
Communications Specialist
402-323-3393
jsnyder@southeast.edu