Storm women to play for district title
March 06, 2023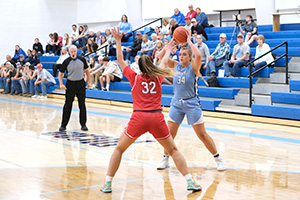 The Southeast Community College women's basketball team will host the Northwest Plains Championship on Saturday, thanks to a 74-52 victory over North Platte in the Region IX championship on March 4.
SCC will face the Region XIII champion, United Tribes Technical College, at 1 p.m. Saturday, March 11, in the Truman Center Gymnasium on SCC's Beatrice Campus.
The winner qualifies for the 16-team National Junior College Athletic Association Division II Tournament March 21-25 in Port Huron, Michigan. National tournament seedings will be announced on March 14.
United Tribes Technical College, located in Bismarck, North Dakota, is 8-19 on the season. Playing primarily North Dakota, Wyoming and Montana schools, the Thunderbirds reached the district title game with a 98-74 victory over Dakota College at Bottineau, a team UTTC defeated all four times the two teams played this season.
UTTC is led in scoring by Myona Dauphinais, who is averaging 16 points per game. Tiara Flying Horse averaged 12 points per game. Kelanna McClain is the top rebounder at seven per game.
SCC is 18-12 on the season and reached the title game with a 74-52 victory over North Platte last Saturday in Beatrice. Matalynn Campbell, a freshman from Lincoln East, scored 21 points to lead the way for the Storm. Kaylee Klover, a sophomore from Wymore Southern, added 18, while Jaedyn Ratzlaff, a freshman from Howells-Dodge, scored 14 coming off the bench. Starter Shelby Siebold, a freshman from Clay Center, Kansas, added 11. SCC shot 52% from the field compared to North Platte's 22%. The Storm led 40-26 at halftime.
Four players average double-figure scoring for the Storm, led by Campbell at 14 points per game. Klover averages 12, and Jordan Koehler and Siebold average 11 each. Koehler is a sophomore from Johnson-Brock.
The Storm's last appearance in the national tournament came in 2015. SCC opened the tournament with a 71-64 loss to eventual national championship Johnson County Community College. United Tribes last qualified in 2016.