Automotive - Ford Automotive Student Service Educational Training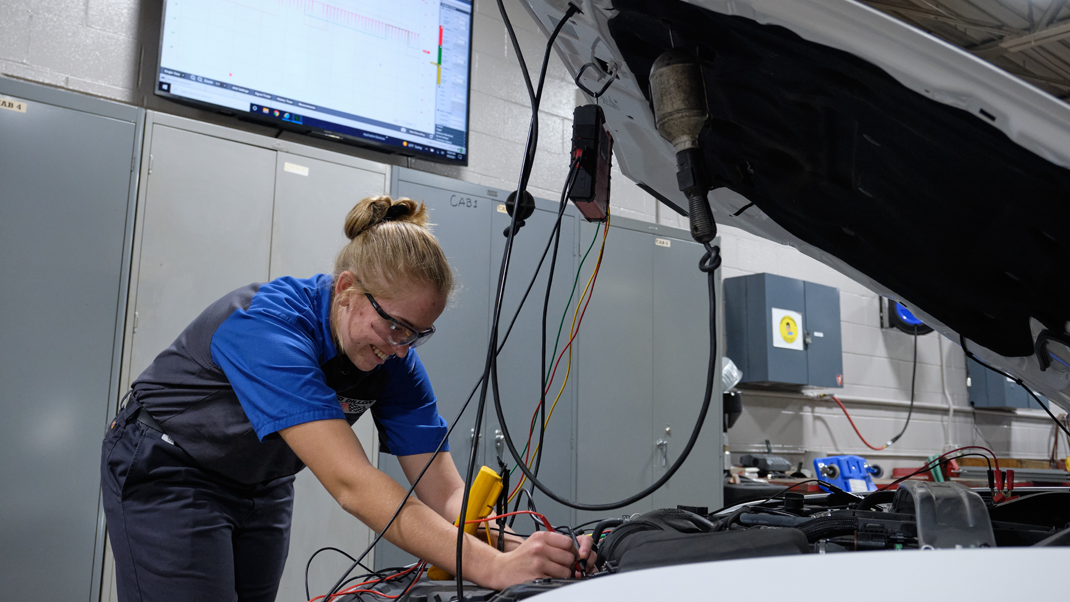 Program Description
Our partnership with the Ford Motor Company and their dealerships prepares you to step into a career as a highly qualified and prepared entry-level technician after you graduate. The Ford Automotive Student Service Educational Training program incorporates the most advanced automotive technical training with a strong academic foundation of math, reading, electronics, analytical, and technical skills.
The ASSET program teaches on Ford Motor Company products exclusively as they provide us with current vehicles, components, state-of-the-art diagnostic equipment and instructional materials for a true hands-on experience. You are required to secure a sponsorship in a Ford or Lincoln dealership during the program to receive on-the-job training. This will provide you with the opportunity to apply what you are learning in the classroom to a training-related employment work experience.
Students entering this program may qualify for the Scott Pathway Scholarship.
Awards Offered: A.A.S. Degree
Locations: Milford
Formats: In-Person
Start: Fall
Schedule: Full-Time
Estimated Total Cost
$14,221 Associate of Applied Science
You can start the Ford ASSET program in the Fall term. Follow these steps to finish your application:
Want to learn more about SCC? Come see how SCC will help you achieve Your Path to Possible!

Schedule a campus visit!
Need help exploring career opportunities or navigating the admissions process?

Schedule an appointment

with an Admissions Counselor.
Ready to apply?

Complete an Application for Admission.
Submit ACT, SAT, Next Generation Accuplacer, or Accuplacer test scores (reading and math) or official college transcripts showing completion of post-secondary coursework in English and math to the Admissions Office at any SCC location.
In addition, you are required to provide or purchase a basic tool set during the first semester. Tools may be purchased at the SCC Campus Store or the SCC Milford Parts Store. You are required to wear program uniforms while in classroom or laboratory settings.
You're a Good Fit
You will be successful in our Ford ASSET program if you:
have high mechanical ability and basic math skills
have good communication skills (must be able to read, understand and follow written directions; must be able to read manuals and computer-generated instructions; and must be able to express oneself clearly verbally)
are computer efficient and detail-oriented
are a "mind-on" and a "hands-on" person
have the ability or willingness to work on a team
are a sequential and analytical thinker

Careers
Our program prepares you for an entry-level Automotive Technician in a Ford or Lincoln dealership. Recent SCC graduates report an average starting annual salary of $41,600.