Business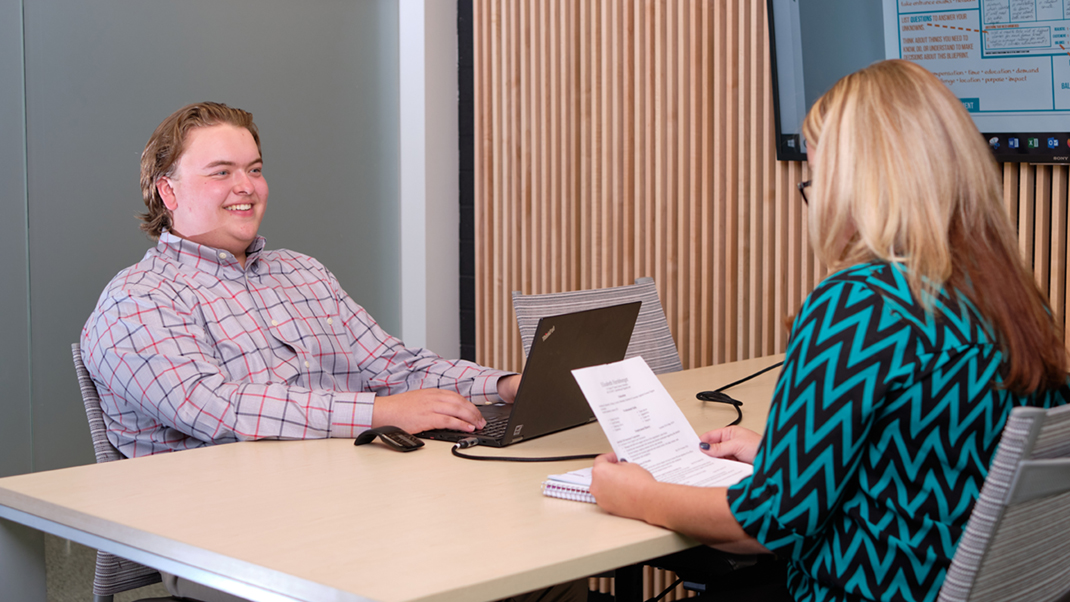 Program Description
We can prepare you to solve real world business problems with a degree from our Business program. One of the most versatile degrees offered at Southeast Community College, you will be able to choose your career path whether it be moving up the corporate ladder, starting your own business or completing your bachelor's degree at a four-year college or university.
This flexible program allows you to take classes either full time or part time as well as in a traditional classroom or online – you choose the right option for you.
Awards Offered: A.A. Degree / A.A.S. Degree / Certificate / Diploma
Locations: Beatrice, Lincoln, Milford, Online
Formats: In-Person / Online
Start: Fall / Spring / Summer
Schedule: Full-Time / Part-time
Estimated Total Cost
$9,254 Associate of Arts
$9,137 Associate of Applied Science
$4,627 Diploma
$2,225 Certificate
You can start the Business program in the Fall, Spring or Summer terms. Follow these steps to finish your application:
Want to learn more about SCC? Come see how SCC will help you achieve Your Path to Possible!

Schedule a campus visit!
Need help exploring career opportunities or navigating the admissions process?

Schedule an appointment

with an Admissions Counselor.
Ready to apply?

Complete an Application for Admission.
Submit ACT, SAT, Next Generation Accuplacer, or Accuplacer test scores (reading and math) or official college transcripts showing completion of post-secondary coursework in English and math to the Admissions Office at any SCC location.
You will need to demonstrate keyboarding skills of at least 30 words per minute minimum with three or fewer errors.
If you cannot validate competencies in accounting and keyboarding, you may take courses in those areas at SCC. Credit earned in OFFT 1150 – Basic Keyboarding will not count toward your degree.
You must complete the regular SCC admission requirements and prerequisite courses with a grade of "C" or higher to continue in the Business program.

Mission Statement:
The mission of Southeast Community College's Business Program is to prepare diverse learners for lifelong career opportunities.
Vision Statement:
The Business Program strives to be a leader in transforming education through technology, communication, and collaboration. Our faculty, staff, and administrators prioritize student success. We will advance learning opportunities through workforce leadership responsiveness, up-to-date engaging curriculum, and continuous improvement.
2 + 2 Degree Option
Earning your Associate of Arts degree in Business from SCC gives you an affordable path to complete your bachelor's degree. This degree option prepares you to transfer to a four-year university or college by teaching you basic business skills in accounting and economics. We partner with local colleges and universities including:
University of Nebraska–Lincoln
University of Nebraska Kearney
University of Nebraska at Omaha
Nebraska Wesleyan University
Doane University-Lincoln
Peru State College
Bellevue University

Entrepreneurship Center
If you see yourself starting your own business, you have access to the SCC Entrepreneurship Center in Lincoln. The Center is a full-service resource hub for entrepreneurs in all stages of business development.
Careers
You are able to choose a career which emphasizes your strengths in the business world. Recent SCC graduates report an average annual starting salary of $44,824. Career options include:
Accounting Associate
Administrative Coordinator
Benefit Specialist
Billing Coordinator
Business Manager
Director of Merchandising
Donor Relations Representative
Human Resource Specialist
Legislative Aide
Logistics Associate
Marketing Officer
Payroll/Accounting Clerk
Property Manager
Teller
Underwriting Assistant

State Authorization Reciprocity Agreement Institution