Computer Information Technology - Applications Development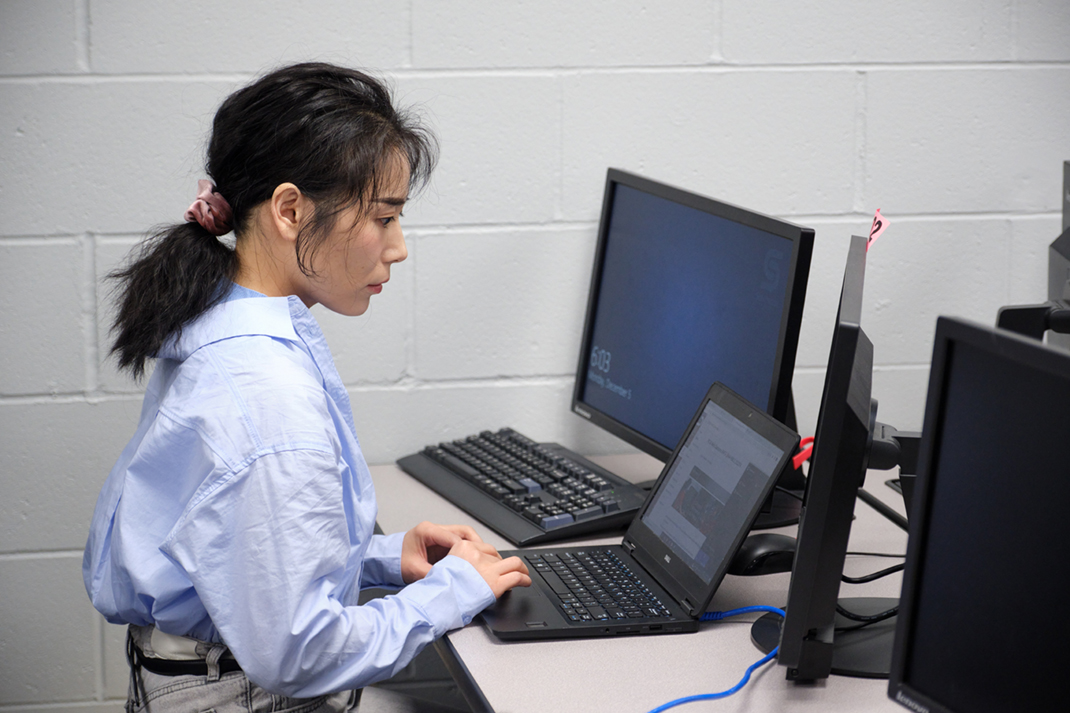 Program Description
Our Applications Development program will prepare you to design and code software applications on different computer platforms (PC, web, mobile). You will receive hands-on training in Java, C#.NET, HTML/CSS, JavaScript, SQL, ASP, JSP. This career path is perfect for you if you want to code PC applications, program websites, create mobile apps, or develop enterprise-wide software solutions commonly used in business and industry.
Our flexible Applications Development program provides hands-on training while allowing you to be a full-time or part-time student taking day, evening and online classes. Many courses can be completed online but you will be required for some in-person classes. You will be prepared to work in every sector of the economy after you graduate from the program.
This program may qualify you for the STEM CONNECT scholarship. The STEM CONNCECT scholarship is available to academically talented, low-income students interested in careers that require strong skills in mathematics or computer science.
The Diploma can be completed 100% online, 100% face-to-face, or a combination of both!
Awards Offered: A.A.S. Degree / Diploma
Locations: Lincoln
Formats: In-Person / Online
Start: Fall / Spring
Schedule: Full-Time / Part-time
Estimated Total Cost
$9,238 Associate of Applied Science
You can start the Applications Development program in the Fall or Spring terms. Follow these steps to finish your application:
Want to learn more about SCC? Come see how SCC will help you achieve Your Path to Possible!

Schedule a campus visit!
Need help exploring career opportunities or navigating the admissions process?

Schedule an appointment

with an Admissions Counselor.
Ready to apply?

Complete an Application for Admission.
Submit ACT, SAT, Next Generation Accuplacer, or Accuplacer test scores (reading and math) or official college transcripts showing completion of post-secondary coursework in English and math to the Admissions Office at any SCC location.
You're a Good Fit
Our Applications Development program provides you with a comprehensive, hands-on training in current technologies which makes you a valuable employee. You will be successful in this field if you:
have excellent problem-solving skills
are organized, detail oriented, able to prioritize your workload and document activities
are able to communicate effectively with a variety of people
have good written and oral communication skills
are flexible enough to work in groups or independently
can concentrate on a project or problem until you find a solution
enjoy working in a field that is always changing

Careers
The job market is looking for people with the technical skills to make computers work. Rewarding IT careers are available in almost every field including health, education, business, transportation and manufacturing, and the job outlook is expected to increase through 2022. Recent SCC graduates report an average starting annual salary of $64,584. Career options in Applications Development include:
Application Developer
Instructor
IT Applications Developer
IT Database Analyst
Programmer
Software Developer
Software Engineer
System Application Specialist
Web Developer
Web Programmer

State Authorization Reciprocity Agreement Institution