Concrete Construction Technician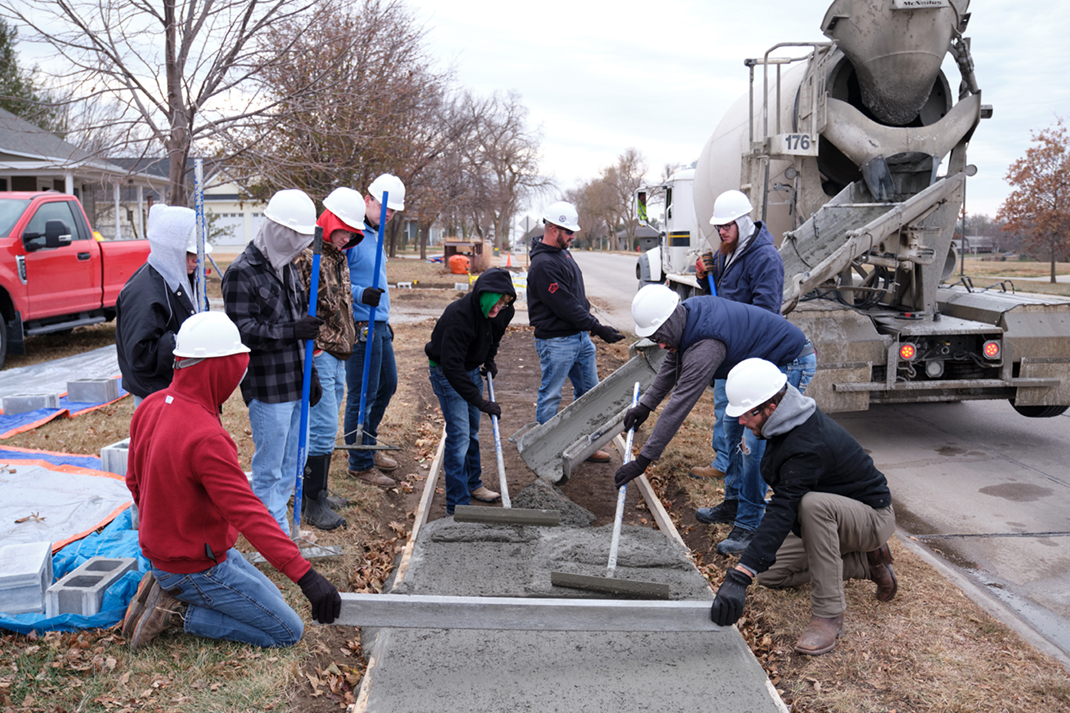 Program Description
Our Concrete Construction Technology program provides real-world industry exposure to help you develop the skills necessary for a successful career. These skills include: project site preparation and safety; concrete forming, placing and finishing operations for vertical and horizontal concrete construction; mix design; and trouble shooting. You will also learn drafting and estimating skills.
You will participate in program activities and projects affiliated with the American Concrete Institute, Nebraska Concrete and Aggregate Association, National Association of Home Builders and the Associated General Contractors professional groups. This includes putting your education to work as you place concrete in variety of conditions and sites with your classmates. You will perform live concrete construction tasks throughout the year in the community, giving you valuable hands-on experience working with a wide array of variables.
Students entering this program may qualify for the Scott Pathway Scholarship.
Awards Offered: A.A.S. Degree / Certificate / Diploma
Locations: Milford
Formats: In-Person
Start: Fall
Schedule: Full-Time
Estimated Total Cost
$8,549 Associate of Applied Science
$4,295 Diploma
$2,763 Certificate
You can start the Concrete Construction Technician program in the Fall term. Follow these steps to finish your application:
Want to learn more about SCC? Come see how SCC will help you achieve Your Path to Possible!

Schedule a campus visit!
Need help exploring career opportunities or navigating the admissions process?

Schedule an appointment

with an Admissions Counselor.
Ready to apply?

Complete an Application for Admission.
Submit ACT, SAT, Next Generation Accuplacer, or Accuplacer test scores (reading and math) or official college transcripts showing completion of post-secondary coursework in English and math to the Admissions Office at any SCC location.
In addition, you are required to provide or purchase a basic tool set during the first semester. Tools may be purchased at the SCC Campus Store.
You're a Good Fit
You will be successful in our Building Construction Technology program if you:
have high spatial relations ability
have good math ability in basic math and geometry
are an excellent communicator, both written and verbal
have the ability to perform physically demanding work in all kinds of weather
are detail-oriented and can work within precise limits or standards of accuracy
are a sequential and analytical thinker
have the perseverance to stay on a multi-step task to completion
enjoy working with your hands
can work cooperatively as a member of a team
like to see results

Careers
Our Concrete Construction Technician program gives you the foundation needed for a satisfying career in the construction industry. Recent SCC graduates report an average starting annual salary of $43,368. Career options in concrete construction include:
Concrete/Masonry Specialist
Construction Laborer
Construction Owner
Project Foreman
Skilled Laborer