Graphic Design | Media Arts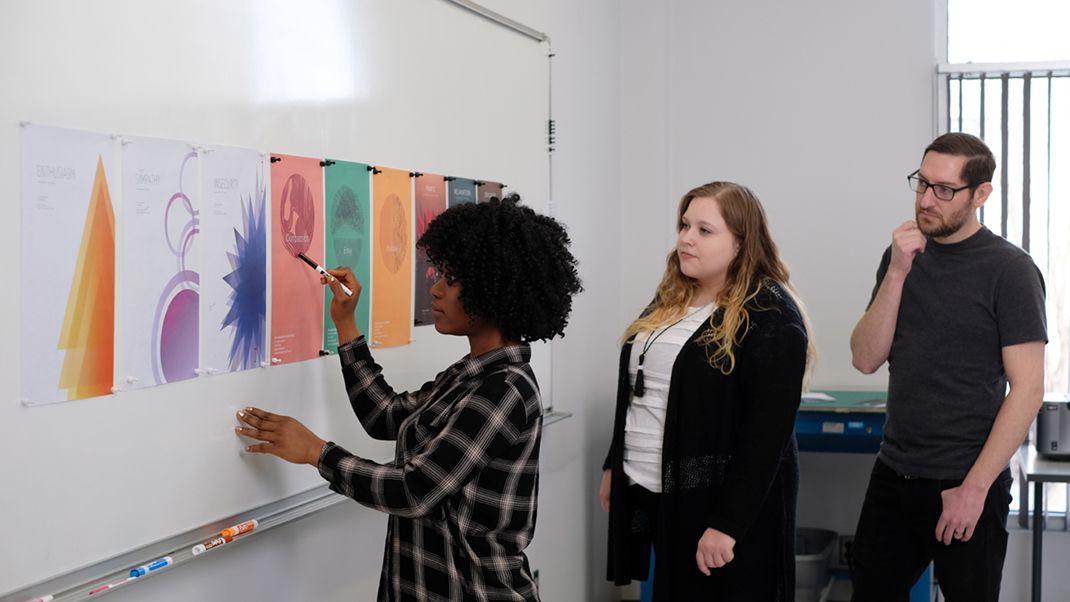 Program Description
Applications to the Graphic Design | Media Arts program's 2023 Fall Semester have closed.
If you have an artistic mind and enjoy solving problems, the Graphic Design|Media Arts program is for you. You will graduate from our program with the technical skills and fundamental conceptual theories and techniques needed to produce compelling visual messages.
A form of visual communication commonly used in marketing and advertising to solve problems, graphic designers work with typography, color, and images to design: advertising campaigns, publications, book covers, brand identities, websites, mobile application interfaces, package designs, and much more.
Our program is a Monday-Thursday, block-scheduled program at our Education Square location in downtown Lincoln. You will work at an individual workstation in our graphic design lab to learn design thinking and the creative process. Our classroom simulates a real-world, work environment by having you do all the steps in the design process including research, creating and giving oral and written presentations as an individual and in a team. Your finished design project becomes part of your professional portfolio.
Awards Offered: A.A.S. Degree
Locations: Lincoln
Formats: In-Person
Start: Fall
Schedule: Full-Time
Estimated Total Cost
$12,672 Associate of Applied Science
Our GDMA program accepts a new cohort once per year in August. Acceptance to the program is based on a selection process outlined on this
Program Admissions Checklist (PDF)
. All incoming students must participate in a program-specific orientation to secure their seat.


You're a Good Fit
Graphic Design|Media Arts is a technical, portfolio driven, accelerated program. You should have strong spatial skills which will be demonstrated through the Visual Awareness Assessment and portfolio. This assessment will help us gauge your analytical, creative and divergent thinking skills. You will be successful in our GD|MA program if you:
have the ability to draw and capture your ideas on paper
pay attention to detail and craftsmanship
have experience using computer programs like Adobe Creative Suite and are comfortable working at a computer for long periods of time
are comfortable receiving constructive feedback and criticism
can critically think about a problem
have strong time management skills and the ability to meet deadlines
are self-driven and able to work on a team in a fast-paced, changing industry
want to continue to learn new and update your design skills

Careers
Graphic design is one of today's fastest-growing fields. Everywhere you look you see the work of graphic designers. Recent SCC graduates report an average starting annual salary of $39,728. Career options in Graphic Design|Media Arts include:
Graphic Designer
Front-End Web Developer
Interactive Designer
Production Artist
Package Designer
Web Designer

Faculty
GD|MA has skilled instructors who have worked in the Lincoln and Omaha area at design agencies, in-house, and freelance.
Nicholas Burroughs
As the program chair of the GDMA program, and an instructor, Nicholas works with students not only on a daily basis, but throughout their time in the program. He enjoys teaching students the fundamental principles of design, as well as what to expect in the professional design world.
Nicholas has over a decade of experience as a professional designer including stints at large advertising agencies and small design studios within Nebraska, and has worked with clients as large as Sephora, and Twitch. Throughout this time he also operated his own small design business, working with various businesses and local non-profits.
Prior to teaching at SCC Nicholas taught several classes at Metropolitan Community College in Omaha, NE.
Nicholas Burroughs
Program Chair
402-323-3478
nburroughs@southeast.edu