Human Services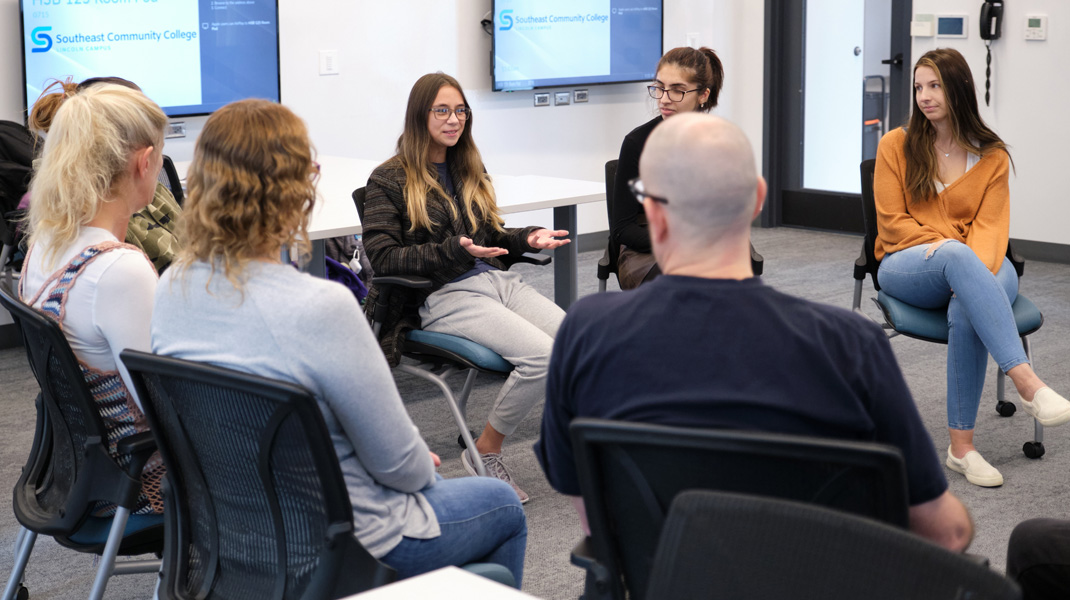 Program Description
The Human Services Program prepares students for careers in the helping professions. We train students to work in Social Services Agencies as direct support staff to individuals who are receiving assistance. The Human Services Field is a diverse and growing profession with many employment options, and room for advancement. This is a generalist degree which allows you to focus your career on any population including children, adolescents, adults, and elders. Including those struggling with homelessness, domestic or child abuse, unemployment, and behavioral health challenges like mental health or addiction. The degree empowers graduates to become employed in a wide variety of fulfilling positions. Students learn skills of active listening, critical thinking, and social advocacy. Students gain an understanding of the individual and societal impacts of poverty, abuse, oppression, mental health and addiction. Students complete several practicum experiences in the community, preparing them to enter the workforce upon graduation with experience in the field.
Students have the opportunity to obtain an Academic Certificate in conjunction with their Associates of Arts Degree in Human Services. This dual enrollment allows students to specialize, and graduate with both an AAS in Human Services and an Academic Certificate in either Alcohol and Drug Counseling, or Peer Support. These specialized Certificates prepare students to take state exams for licensure, and work in specialized professions. Only one certificate can be enrolled in at a time.Please see your program advisor to assist with enrollment and course selection.
Awards Offered: A.A.S. Degree
Locations: Lincoln, Online
Formats: In-Person
Start: Fall / Spring / Summer
Schedule: Full-Time
Estimated Total Cost
$10,160.50 Associate of Applied Science
Please follow the steps below on the Human Services Getting Started Checklist to complete the application process.
Ready to apply?

Complete an Application for Admission.
Submit ACT, SAT, Next Generation Accuplacer, or Accuplacer test scores (reading and math) or official college transcripts showing completion of post-secondary coursework in English and math to the Admissions Office at any SCC location.
Students who dual enroll in the Human Services Program along with either the Alcohol and Drug Counseling Certificate or the Peer Support Specialist Certificate should see their assigned program advisor to ensure they are dual enrolled and registered for the correct courses.
You're a Good Fit
You are a good fit for Human Services if you:
are interested in people's stories
are curious about people's behaviors
want to help people overcome social barriers
see injustice and want to change it
are a good listener
care about people and what happens to them
are open-minded and accepting of differences
are flexible

Careers
We will prepare you to be an innovative leader in the community who provides direct supportive services promoting diversity, self-awareness and social justice. Salary ranges can vary widely depending on the city and many other important factors, including education, certifications, additional skills, the number of years you have spent in your profession. Recent Human Services graduates report an average starting salary of $37,856. Careers include:
Activities Aide
Alcohol and Drug Counselor
Case Manager
Community Support Professional
Family Advocate
Mental Health Security Specialist or Technician
Outreach Worker
Peer Support
Teen Specialist
Accreditation
State Authorization Reciprocity Agreement Institution: