John Deere Tech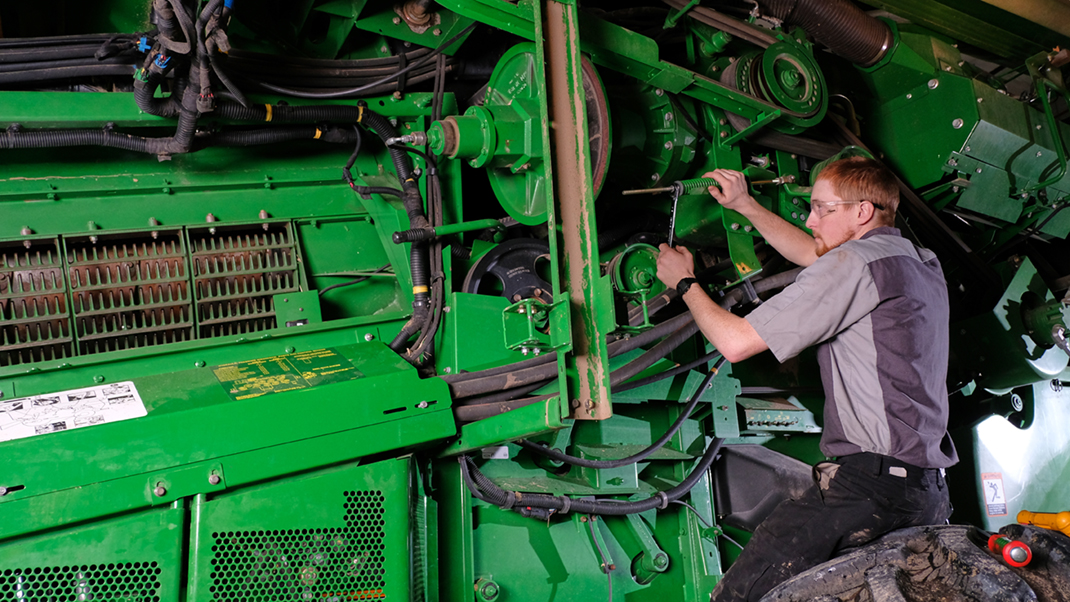 Program Description
Our John Deere Tech program was the first of its kind in the United States and has become a model for other John Deere Tech programs. You will learn about engine and fuel systems, hydraulics and power trains, electrical and electronics, tillage, seeding and harvesting equipment, heating and air conditioning, and Oxy Acetylene and Gas Metal Arc Welding. If you want the skills necessary to secure employment as a high-quality technician in a Fortune 500 Company, this program is for you.
Your coursework will consist of lectures and labs taken on our Milford campus. You will do your off-campus training at a John Deere dealership.
Students entering this program may qualify for the Scott Pathway Scholarship.
Awards Offered: A.A.S. Degree
Locations: Milford
Formats: In-Person
Start: Fall
Schedule: Full-Time
Estimated Total Cost
$16,282 Associate of Applied Science
You can start the John Deere Tech program in the Fall or Spring terms. Follow these steps to finish your application:
Want to learn more about SCC? Come see how SCC will help you achieve Your Path to Possible!

Schedule a campus visit!
Need help exploring career opportunities or navigating the admissions process?

Schedule an appointment

with an Admissions Counselor.
Ready to apply?

Complete an Application for Admission.
Submit ACT, SAT, Next Generation Accuplacer, or Accuplacer test scores (reading and math) or official college transcripts showing completion of post-secondary coursework in English and math to the Admissions Office at any SCC location.
Complete and Submit the Dealer Approval Form to Admissions. Please contact your sponsoring dealership to initiate the electronic form. (If you are having trouble with the electronic form, print the PDF and complete.)
In addition, you are required to provide or purchase a tool set while you are in the program. You may purchase the tools from a vendor of your choice but realize the cost of the tools varies depending on the vendor. Each term has different tool requirements.
You're a Good Fit
You will be successful in our John Deere Tech program if you:
have high mechanical ability and basic math skills
have good communication skills (must be able to read, understand and follow written directions; must be able to read manuals and computer-generated instructions; and must be able to express oneself clearly verbally)
are computer proficient and detail-oriented
are a "mind-on" and a "hands-on" person
have the ability to work on a team
are a sequential and analytical thinker
can multi-task and stay on task until a job is completed

Careers
Our program prepares you prepares you for employment as high-quality, entry-level technicians with John Deere Agricultural Equipment dealers. Recent SCC graduates report an average starting annual salary of $41,288. Career options include:
Agricultural Equipment Technician at a John Deere agricultural dealership
Agricultural Management Solutions (AMS, GPS) at a John Deere dealership

Cooperation
Our John Deere Tech program is offered through a joint cooperation between SCC, John Deere Co., and the John Deere Dealership Network. As part of the program, you must secure a sponsorship from a John Deere dealership for off-campus training.
SCC's John Deere Tech program is a cooperative effort between John Deere Co., the John Deere Dealership Network and SCC. It is designed to be completed in four semesters. Students are on campus participating in lecture/lab courses. Students are given a unique opportunity for students to demonstrate the knowledge they have learned on campus at their sponsoring John Deere dealership. During these Cooperative Education Experiences, students are paid, helping offset the costs of college. The program is fully accredited by the state of Nebraska and by the Higher Learning Commission. www.johndeerepowerup.com