Manufacturing Engineering Technology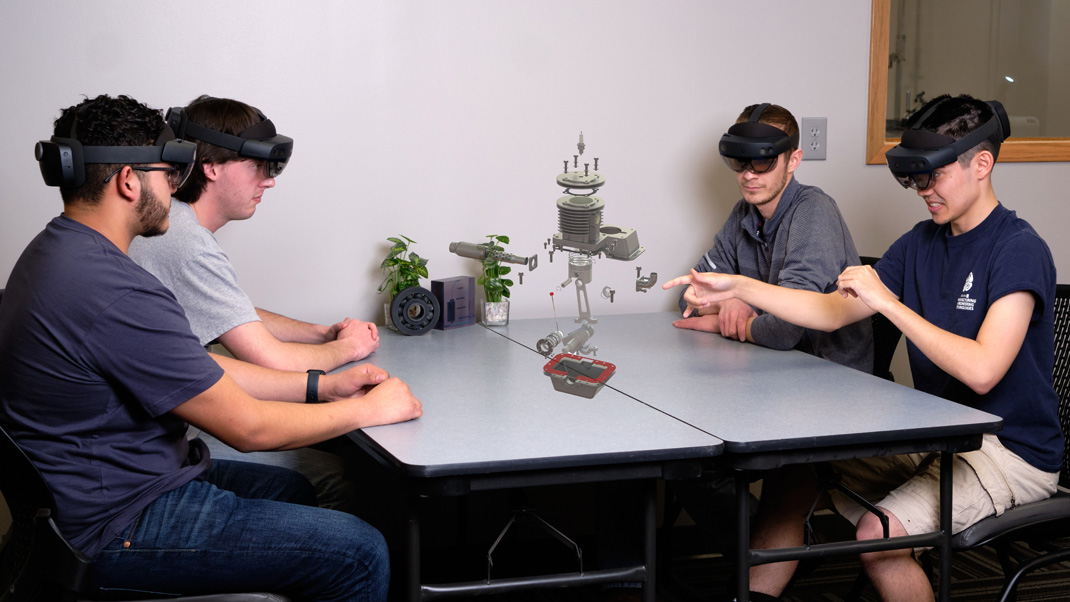 Program Description
Manufacturing engineering technicians use problem-solving skills to design products and develop processes. As an engineering technician you will have the opportunity to positively impact society and improve quality of life.
Everything we use at work, for recreation or at home was designed and manufactured by a professional in the manufacturing engineering industry.
The Manufacturing Engineering Technology program is hands-on! Students spend two-thirds of their time in the lab using the latest technology, including 3-D printers, programmable logic controllers (PLC), ocular lenses, industry design software, and more!
SCC's program continually integrates new technologies to stay on the cutting-edge of the manufacturing industry. You will change the industry as we know it by having exposure to these advanced technologies.
Students are taught to have a growth mindset! This allows them to make an impact in the industry and our lives throughout their careers. SCC graduates enter the workforce as leaders.
Manufacturing is one of the largest industries in Nebraska and has a high need for skilled technicians. Job opportunities are endless for SCC graduates!
Faculty have worked in the industry and have real-world experience to share with you. They are well connected with the industry to understand current needs and future changes.
Students entering this program may qualify for the Scott Pathway Scholarship.
Awards Offered: A.A.S. Degree
Locations: Milford
Formats: In-Person
Start: Fall
Schedule: Full-Time
Estimated Total Cost
$9,491 Associate of Applied Science
You can start the Manufacturing Engineering Technology program in the Fall term. Follow these steps to finish your application:
Want to learn more about SCC? Come see how SCC will help you achieve Your Path to Possible!

Schedule a campus visit!
Need help exploring career opportunities or navigating the admissions process?

Schedule an appointment

with an Admissions Counselor.
Ready to apply?

Complete an Application for Admission.
Submit ACT, SAT, Next Generation Accuplacer, or Accuplacer test scores (reading and math) or official college transcripts showing completion of post-secondary coursework in English and math to the Admissions Office at any SCC location.
If you earn an Associate of Applied Science degree in Manufacturing Engineering Technology, you will be able to transfer your credits to Missouri Western State University to earn a Bachelor of Science degree in Manufacturing Engineering Technology or South Dakota State University to earn a Bachelor of Science degree in Operations Management.
Manufacturing Day | Month
Held annually with events that continue throughout the month, Manufacturing Day (MFG Day) provides an opportunity to showcase manufacturing careers. As manufacturers seek to fill high-skill, high-tech and high-paying jobs, MFG Day empowers manufacturers, industries and SCC to come together to address collective challenges while engaging with communities and the workforce. Learn more.
You're a Good Fit
You will be successful in our Manufacturing Engineering Technology program if you:
have high spatial relations ability
are good in math, especially geometry
are an excellent communicator (both verbal and nonverbal)
are a detail-oriented person who has the ability to stay on a multi-task project from start to finish
enjoy working with computers and are highly computer proficient
can organize ideas to determine what needs to be done as sequential and analytical thinker

Careers
Our Manufacturing Engineering Technology program prepares you for a career in a variety of manufacturing jobs – including designing, quality assurance, purchasing, and/or sales – and become a valued member of an engineering team. Recent SCC graduates report an average starting annual salary of $55,224. Career options in manufacturing engineering technologies include:
Designer/Drafter
Engineering Technician
Quality Control Technician
Manufacturing Engineer
Process Engineer
Product Designer
Robot Programmer
R&D Technician
Automation Engineer
Facilities Layout Management