Electrician Construction (IBEW Apprenticeship Option)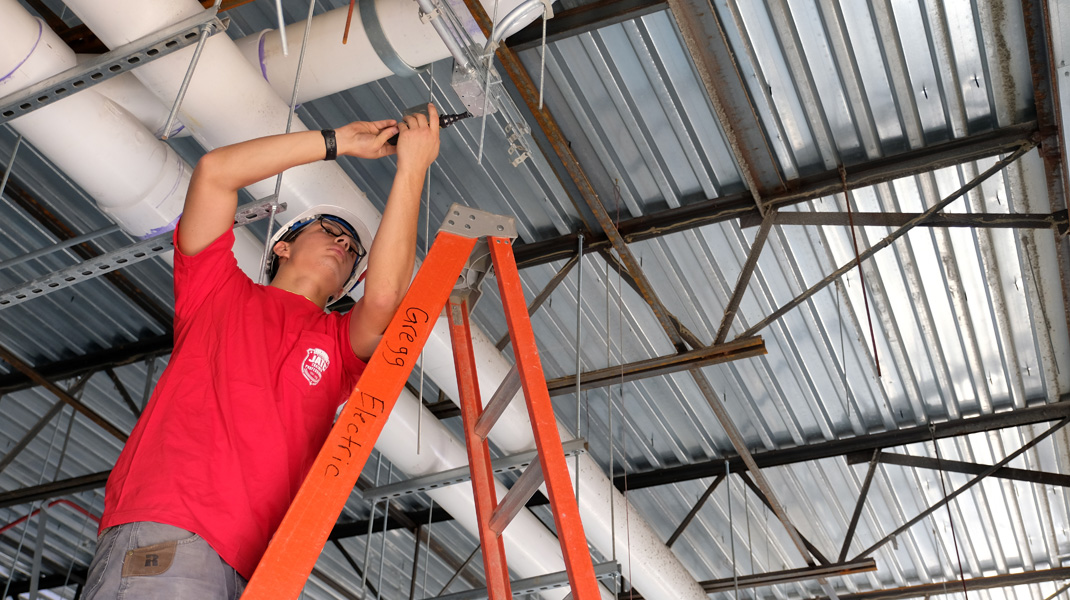 Program Description
We have partnered with the Lincoln Electrical Joint Apprenticeship and Training Committee to offer you the chance to earn while you learn in our Construction Electrician program. This partnership is a registered apprenticeship program through the Department of Labor.
This a five-year program which requires 900 hours of classroom instruction and at least 8000 hours of on-the-job training. The curriculum will be delivered over a five-year period and includes classroom/lab courses along with on-the-job training co-op courses. Classes will take place at the IBEW Local #265 Training Center at 1415 Old Farm Road in Lincoln. Your on-the-job training will take place at jobsites located within the IBEW Local #265 jurisdiction.
Awards Offered: A.A.S. Degree / Certificate
Locations:
Formats: In-Person
Start: Fall
Schedule: Full-Time
Estimated Total Cost
$9,180 Associate of Applied Science
$2,340 Certificate
If you are interested in the Construction Electrician program, you must apply online and be accepted into the Lincoln Electrical JATC Apprenticeship program. Once your application is received, you will be notified and provided with a list of documents needed to complete your application. If you are accepted you will earn college credit toward an associate of applied science degree from Southeast Community College.
You will work full-time during the day and take classes two nights a week for eight months out of each apprenticeship year. Classes will start:
Fall Term – last Thursday in August
Spring Term – second Monday in January

You're a Good Fit
You will be successful in our Construction Electrician program if you:
enjoy working with your hands
love to problem solve
are self-motivated and detail oriented
want to learn skills
are dependable and responsible

Careers
The state of Nebraska requires anyone doing electrical work to be licensed. Licenses are valid for up to two years (expire on Dec. 31 of even number years) and individuals must complete at least 12 hours of continuing education with a minimum of six hours covering the National Electrical Code. The three type of licenses are:
Apprentice
Journeyman
Electrical Contractor
Our Construction Electrician program allows you to work while you earn your degree combining hands-on training with classroom instruction. Recent SCC graduates report an average starting annual salary of $38,168. Career options include:
Journeyman Electrician
Foreman
Superintendent
Estimator
Project Manager
Inspector
Owner

Faculty
Our faculty currently work in the industry as electricians with multiple years of experience. Our instructors attend the National Training Institute (NTI) in Ann Arbor, Michigan for one week during the summer to be trained by professional educators on how to effectively teach students, create lesson plans, create labs and rubric's, and more.