Medical Assisting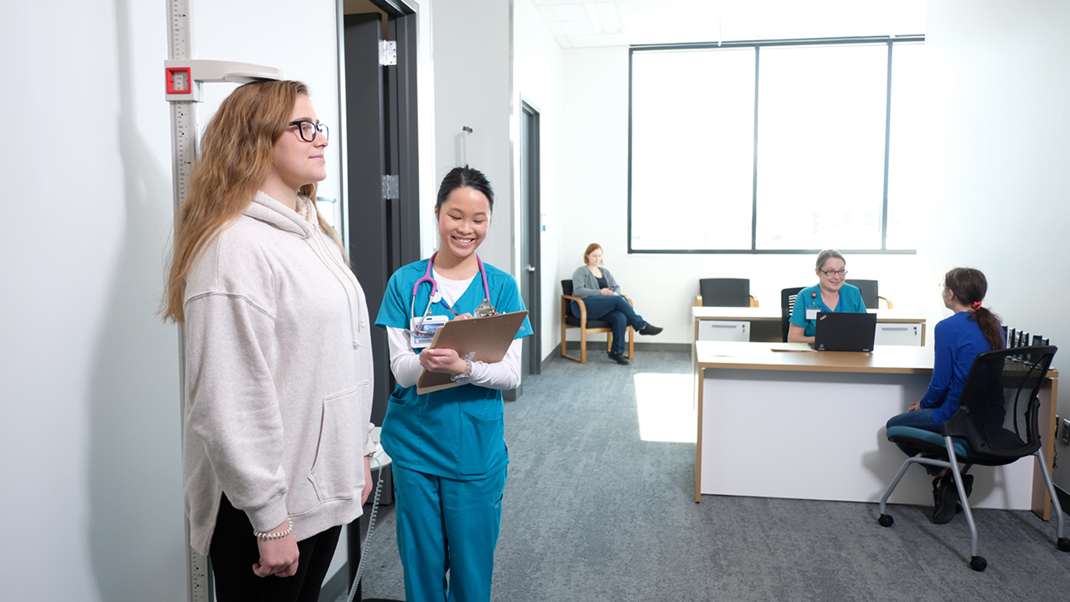 Program Description
If you are looking for a valuable role in the healthcare field working directly with physicians and patients, then the Medical Assisting program is the right choice for you. Some of the skills you will be trained to use include taking vital signs, blood drawing and testing, throat and nasal swabs, assist with minor surgeries, schedule appointments, and perform insurance, coding and accounts receivable procedures.
You will complete this program in three terms minimum with the option of taking some courses online. During your final term, you will spend 225 hours in a physician's office using the skills you learned in your courses. All tuition, fees, books, scrubs, required supplies, and related costs are your responsibility.
Awards Offered: Diploma
Locations: Lincoln, Online
Formats: In-Person / Online
Start: Fall / Spring / Summer
Schedule: Full-Time
Estimated Total Cost
$6,566 Diploma
START HERE: Please follow the steps on the Get Started Checklist (PDF) to complete the program application process.
Admissions Resources:

You're a Good Fit
Medical assistants are trained to work in ambulatory clinics performing a variety of tasks. You will be a successful medical assistant if you:
maintain professionalism and show initiative to get the job done
have patience and tact while communicating with patients and healthcare professionals
are detail oriented and able to work on a team
can work with patients where there is a possibility of exposure to blood or other body fluids
have manual dexterity to use health-related screening tools
are able to multitask (you may have several patients in varying stages of readiness for the practitioner)
understand and can function in areas where confidentiality and safety are of the utmost importance
are a sequential and logical thinker who can work step-by-step to complete a job correctly
are a person of character with honesty and integrity

Careers
When you graduate from the Medical Assisting program, you will be prepared to enter one of the nation's fastest growing professions. The employment of medical assistants is projected to increase by 23.5% through 2024, according to the U.S. Bureau of Labor Statistics. Recent SCC graduates report an average annual starting salary of $36,296. Career options include:
Certified Medical Assistant
Optometry Technician

Diploma Programs with Reduced Financial Aid Eligibility
According to federal regulations [34 CFR 668.8(k) and (l), and guidance from the Department of Education, if a non-degree program (diploma, certificate) does not fully transfer to an associate degree, that program is subject to a specific calculation that will establish how many credits within the program are eligible for federal financial aid. The amount of aid available to the student is determined based on those eligible credits, and the student's enrollment status (full-time, ¾ time, half-time, less-than-half-time).
So, what does this mean?
If a student enrolls in one of the programs subject to the calculation, federal financial aid may be limited. You will be responsible for the tuition and fees for the number of credits not covered by financial aid.
Please refer to the SCC catalog for current program requirements.
Accreditation
SCC's Medical Assisting program is fully accredited upon the recommendation of the Medical Assisting Education Review Board by:
Commission on Accreditation of Allied Health Education Programs
727-210-2350
The Medical Assisting Education Review Board (MAERB) has established thresholds to be reported on a yearly basis for outcomes assessment in medical assisting programs accredited by CAAHEP. The Medical Assisting program at Southeast Community College (Lincoln, NE) has a retention rate of 85% for the 2020 admission cohort. The Medical Assisting program at Southeast Community College (Lincoln, NE) has an exam participation rate of 93% for the graduates in 2020. The Medical Assisting program at Southeast Community College (Lincoln, NE) has an exam pass rate of 62% for the graduates in 2020.
State Authorization Reciprocity Agreement Institution