Nursing - Practical Nursing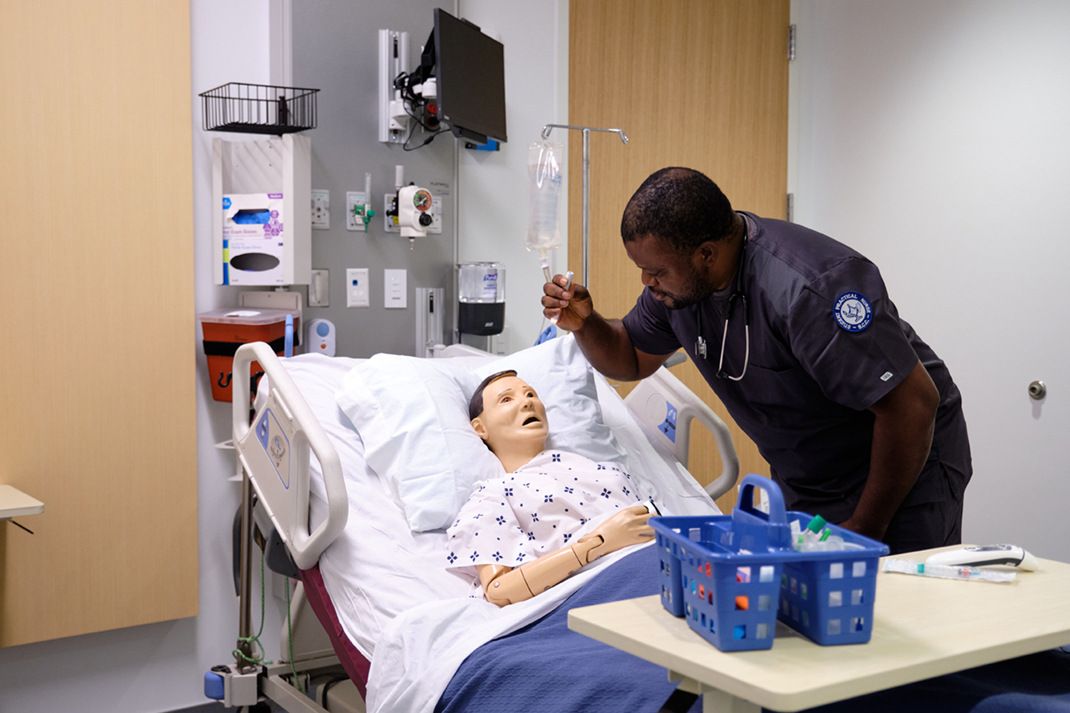 Program Description
If you are passionate about health care and caring for others, then a Practical Nursing career is the perfect fit for you. As a Licensed Practical Nurse, you are a valued member of the health care team working with people across the lifespan from newborns to end-of-life care.
We work with you to complete your degree as either a part time or full time student. Our program will teach you the concepts, principles, skills and attitudes needed to function as a direct patient care provider and patient advocate. Our program enables you to continue your education for advanced certification or higher education.
Awards Offered: Diploma
Locations: Beatrice, Lincoln, Milford, Online
Formats: In-Person / Online
Start: Fall / Spring
Schedule: Full-Time / Part-time
Estimated Total Cost
$5,271.70 Diploma
START HERE: Please follow the steps on the Get Started Checklist (PDF) to complete the program application process.
Determine program option best for you.
Meet with health sciences advisor
Are you currently an SCC student enrolled in classes at SCC?
For students currently enrolled in a program at SCC and/or working on pre-requisite courses for a Health Sciences program please meet with your assigned College Advisor. If this is your first term at SCC you will be connected with your advisor after completing New Student Enrollment. If you are a returning student and are unsure who your advisor is contact

advising@southeast.edu.
Are you new to SCC or unsure where to start?
If you are a new or prospective student, a student transferring from another college, or a student who are unsure where to start, please contact our admissions team at

startSCC@southeast.edu.
Complete placement testing.
Complete program general education requirements.
Complete program success plan.
Complete digital resume.
Complete and submit program application.
Complete special program requirements.
If you are admitted into the Practical Nursing program, you are required to submit the following:
Criminal Background Check (PDF): A non-refundable fee of $45 will be assessed during your first term in the Practical Nursing program. Based on the outcome of the CBC, you may be prevented from taking certain courses, accessing certain laboratory experiences, or completing the program.
Drug and Alcohol Testing: You will be required to submit an initial drug and alcohol testing prior to your first clinical rotation at a contracted healthcare facility. This will be completed in the first term of the Practical Nursing program.
Admissions Resources:

You're a Good Fit
A Licensed Practical Nurse works under the direct supervision of a registered nurse or physician and performs many procedures, including monitoring vital signs, administering medication, documenting work, and supervising unlicensed personnel. You will be a successful practical nurse if you:
are detail oriented and able to work on a team
provide quality care with respect and dignity for the patient and their family
are able to communicate effectively (both verbal and written)
anticipate a patient's needs, making quick decisions without supervision
calculate safe and accurate dosages of medication, IV rates and solutions
document and communicate changes in the patient's condition with other health care providers
have the ability to multitask
are a person of character with honesty and integrity

Program Requirements & Student Responsibilities
As a Practical Nursing student, you are responsible for:
All tuition, fees, books and related costs.
If you are taking the part time track (online), you must attend clinical and lab in one of our locations in Lincoln, Beatrice, Geneva/Milford or Falls City.
At the end of the program, you will be prepared to:
Participate in the development, implementation, and evaluation of the plan of care using the nursing process to meet the physical, psychological, spiritual and social needs of the individual.
Communicate (oral and written) effectively to establish relationships with the patient, families, significant others, health care team members and the community.
Practice entry level nursing under the direction of a registered nurse or a licensed practitioner.
Assess the health status and culture of individuals throughout the lifespan, identifying their needs and contributing to formation of the nursing diagnosis/patient problems.
Provide safe, evidence based care by creating a caring environment conducive to safety and health.
Direct and assign nursing interventions that may be performed by others.
Accept accountability for nursing actions by functioning within one's educational preparation, the state's scope of practice, and the nursing code of ethics.
Accept responsibility for personal and professional growth integrating evidence based practice.
Careers
You picked a career in a growing field as the Nebraska Department of Labor expects 25% growth during the next 10 years in nursing. Most graduates are hired into an acute care specialty at hospitals, clinics, offices and long-term care facilities. Recent SCC graduates report an average annual starting salary of $49,088.
Career options as a Licensed Practical Nurse Include:
Charge Nurse Long Term Care Facility
Clinic Nurse
School Nurse
Home Health
Hospice
Acute Care Facilities, Hospital

Diploma Programs with Reduced Financial Aid Eligibility
According to federal regulations [34 CFR 668.8(k) and (l), and guidance from the Department of Education, if a non-degree program (diploma, certificate) does not fully transfer to an associate degree, that program is subject to a specific calculation that will establish how many credits within the program are eligible for federal financial aid. The amount of aid available to the student is determined based on those eligible credits, and the student's enrollment status (full-time, ¾ time, half-time, less-than-half-time).
So, what does this mean?
If a student enrolls in one of the programs subject to the calculation, federal financial aid may be limited. You will be responsible for the tuition and fees for the number of credits not covered by financial aid.
Please refer to the SCC catalog for current program requirements.
Accreditation

SCC's Practical Nursing program is approved by the Nebraska State Board of Nursing and accredited by:
Accreditation Commission for Education in Nursing, Inc.
3390 Peachtree Road NE, Suite 1400
Atlanta, GA 30326
Phone 404-975-5000
www.acenursing.org.
The most recent accreditation decision made by the ACEN Board of Commissioners for the Practical Nursing Program is Continuing Accreditation.
State Licensure or Certification Requirements
States where licensure or certification requirements are met by this program's curriculum – Nebraska
Graduates of this program are eligible to apply to take the NCLEX-PN exam. Nebraska belongs to the National Council of State Boards of Nursing (NCSBN) compact. Any student passing the NCLEX-PN exam in Nebraska may also practice as a Licensed Practical Nurse (LPN) in any of the other compact states without reapplying for a license in that state. Click on the following link to access all compact states: https://www.ncsbn.org/compacts.htm.
SCC has made no determination of any non-compact State as to whether the program's curriculum does or does not meet licensure or certification requirements.
State Authorization Reciprocity Agreement Institution